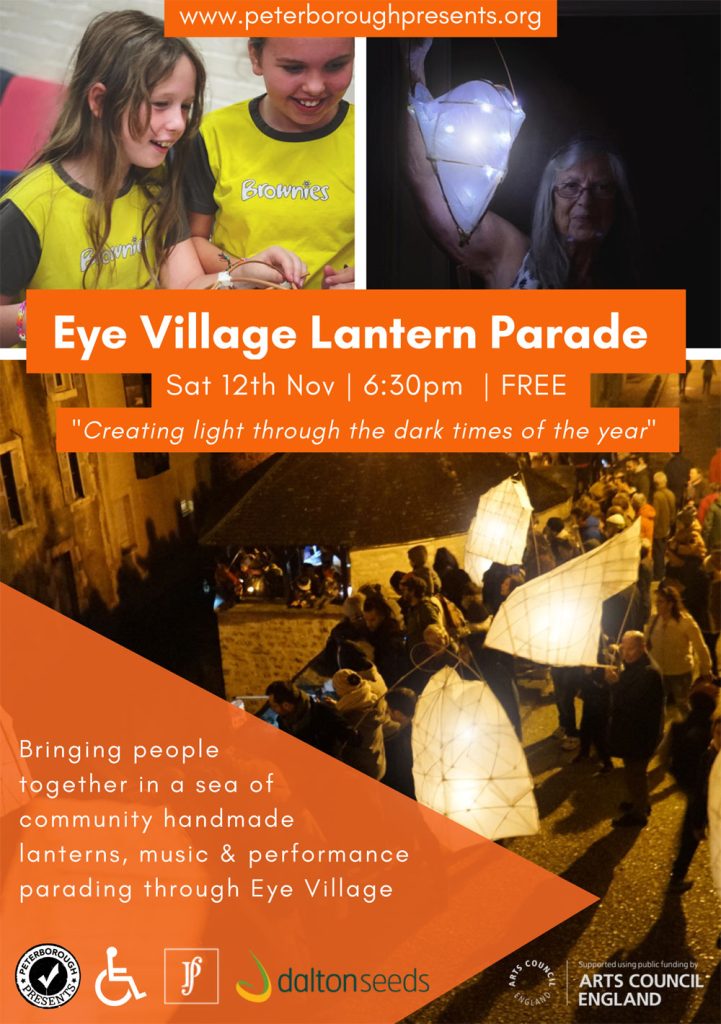 Light up Eye is a free to attend, family oriented lantern parade. It's an event the like of which has never been seen before in the village. On Saturday 12 November from 6.30pm a lantern parade will make its way through the centre of the village.
The parade will travel from Manor Farm Community Centre, along the back of Cleve Place and Merevale Drive, up Bath Road, along the High Street and ending at St Matthew's Church.
Please register your free place through this Eventbrite link. Booking is essential.
Part of Eye High Street will be closed to traffic during the parade, find further details below.
Eye Lantern Parade will bring the local community together to celebrate the village, people and winter traditions of the area. Light Up Eye is the inspiration of performance company La Septima UK. Organised by Peterborough Presents the event is inspired by Christmas light displays and the history of the village. Residents will parade through the village with beautiful handmade lanterns – creating some winter cheer in the darker times of the year.
Join in the fun and decorate your houses: If you are one of the houses on the parade route, we would love it if you wanted to light up or decorate your home. You can use Christmas lights (static and not flashing lights if possible) or use tissue paper to make patterns or scenes on your windows.
Following the parade residents will be able to see the lanterns on display at St Matthew's Church, Eye. There is very limited parking in the centre of the village so please walk if you can.
Groups from across the village have been working with La Septima to make paper lanterns & create performances. Groups inc: Eye W.I., Eye Primary School, Eye Youth Group, Eye Rainbows, Brownies and Guides, residents at The Spinney, Froglife, EAPS, Eye Runners and lots of individual residents. Together, we've made over 150 lanterns!
Make your own lantern
There are free public lantern making workshops on the 5 and 6 November, 11am – 4pm at Eye Youth Club. For how to make lanterns at home visit the Peterborough Presents website.
For bookings (parade, lantern making, access details) visit www.peterboroughpresents.org/light-up-eye or contact: 07436 031343
Peterborough Presents will be releasing some videos and information sheets for you to make your own lantern at home using simple household items. Keep an eye out on this page and on our social media for these handy guides! (To make sure we are accommodating all access needs, please don't use or bring flashing lights for this parade).
To find out more about this project, contact Keely at Keely.Mills@neneparktrust.org.uk or 07436 031383
Road closure
For the safety of residents Eye High Street will be closed from 6.30pm – 8pm to traffic from just before Bath Road to the church during the parade. Emergency vehicles will still be able to gain access if needed. It has been authorised by Peterborough City Council and the Highways Agency. 20/20 Traffic Management Company will be managing the road closure and implementing signage. 
Redirected bus routes: Busses will not travel along the High Street for the duration of the event and associated road closure. Temporary bus stops will be set up on Cartmel Way and Crowland Road to replace the ones on the High Street. Buses will collect and drop off at these points but will be redirected via the A47. This will only impact on 1 – 2 buses arriving or departing between 6.30 – 8pm.