The weather remained dry and a great evening was had by the 1000 residents who attended or took part in the parade. The parade which was organised by Peterborough Presents started at the community centre, travelling along Bath Road and the High Street before ending in the grounds of the church.
Who is Peterborough Presents? Peterborough Presents are a community-focused arts programme. We work in areas of the city for 2 – 3 years at a time, working with local residents to develop creative projects for local residents. You can find out more about our programme here: www.peterboroughpresents.org
Community producer for Peterborough Presents, Keely Mills goes into more detail: "Light Up Eye was our first big project in Eye and we chose a cultural memory from Eye's recent past as a basis for a commission. This memory was of Drakes family Christmas displays, where they decorated their house with hundreds and hundreds of lights to raise money for charity. So many people across Peterborough remember coming to Eye at Christmas to see this and people in the village loved it too.  We knew we did not want to replicate this but the idea of people gathering in the dark months and bringing a little light into people's lives was appealing.
"We worked with local residents who became our commissioning panel. They helped us to go through ideas from local and national artists. One of these was from La Septima, a French company, who approached us with the idea of a lantern parade. The Eye panel wanted a project that would be ambitious, brought lots of residents together, linked both the old Eye and new Eye families, highlighted Eye's creativity and made people feel proud.
"We had no idea how quickly this would grow. Over the summer and into the Autumn we ran lantern making workshops with groups from across the village – with Eye W.I, the Rainbows, Brownies and Guides, The Spinney residential home, Eye Primary school and more. Even the most nervous left feeling astounded by what they had created. Together we made over 150 lanterns of brick works, flowers, planes, rabbits – even a jellyfish.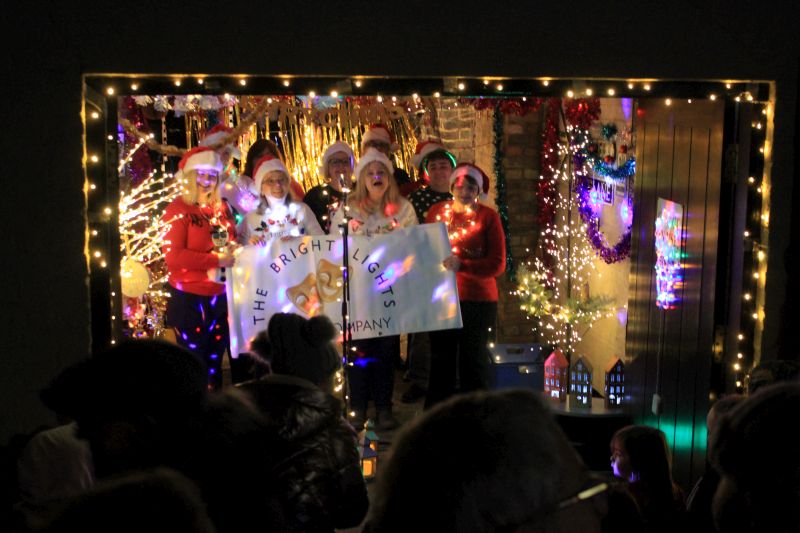 "On the night of the Light Up Eye, 400+ people lit up the village as they paraded through crowded streets with their lanterns, encountering performances by La Septima along the way. The  performances brought to life stories of Eye they had heard during the workshops – of the Jurassic fish the size of a whale, of the brick works and nature reserve. There were performances by Bright Lights amateur dramatics, EAPS and Pig Dyke Molly too. We thought that a few people would turn out to watch but the residents of the village came out in force to watch the parade. It was the residents' generosity that surprised us the most though. People gave over their houses and garages as performance spaces along the parade. They invited the La Septima crew in for dinner, welcomed them into the local pub. We were loaned ladders, costumes but most of all residents gave their time to making this event happen.  Here's a quick film of the parade: https://www.youtube.com/watch?v=qAp9rXrl-YM&t=6s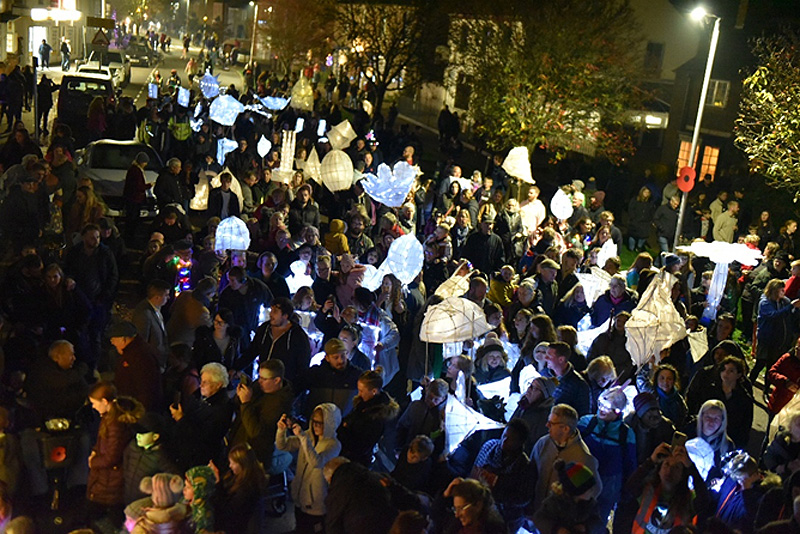 "Light Up Eye has been such a lovely introduction to the village. It has shown that people really welcome the opportunity to get creative, especially when they get to have a say in it – and when it brings something to their community too.
"Peterborough Presents would like to say a huge thank you to Eye Parish Council, Manor Farm Community Association, Hannah Jarvis, Barbara Bryan, Eye WI, Dale McKean, Lilian Muxlow, Eye Youth Club, Clare Orbell, Eddie Mann, The Spinney, Emma White, Haydn Short, Andrew & Sandra Short, Donna Duffy, Eye Rainbows, Guides, Brownies, Lindsay Faull, Eye Primary, Judy Dawson, Bright Lights, EAPS, St Matthews Church, Paul & Gary Mills, The Blue Boar, Eye Coop, all residents on Bath Road & the High street and everyone who made & paraded a lantern!"
Peterborough Presents will be working in Eye on other creative projects over the next 2 years. If you want to get involved contact keely.mills@neneparktrust.org.uk.
Peterborough Presents are looking for your feedback if you came along or took part. Please spare five minutes and fill in this quick evaluation: https://form.jotform.com/220952778731363