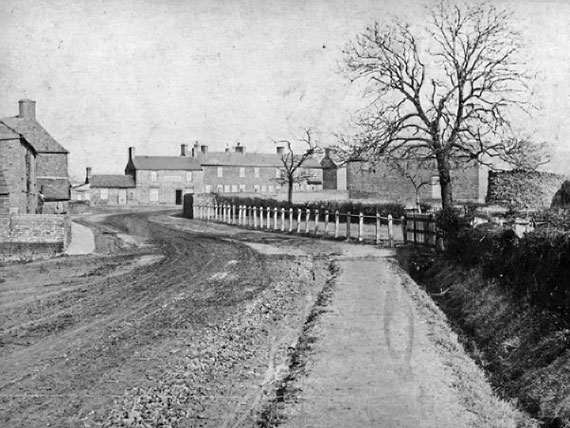 In the 1800s the High Street was known as Town Street or Thorney Turnpike Road and Crowland Road was Crowland Turnpike Road. The first Turnpikes were authorised in the 1600s, they used tolls to pay for the maintenance and improvement of main roads until they were gradually abolished from the 1870s. Side roads were owned by private landowners, with names such as Rumpley's Balk Road, Holmes Road, Singleshot Road and Roundhouse Road.
Before turnpikes every adult inhabitant of the parish was obliged to work four consecutive days a year on the roads, providing their own tools, carts and horses. The work was overseen by an unpaid local appointee, the Surveyor of Highways.
By the late 1800's you had Hodney Row (now Hodney Road, Hodney Row itself doesn't exist today, its now the entrance to Chancery Lane) and Bowberry Row on what we call Eyebury Road today.
With the growth of the village in the 1970s came the issue of street naming. After much discussion, the Parish Council at the time decided that since the whole Eye had once belonged to Peterborough Abbey it would make sense to call any new streets after 'monastic houses' from across the UK. Over 1000 were built so there are plenty of street names left for a growing village, Amesbury, St Augustine's, Chetwode,  Finchale, Leominster, Rievaulx, Roche, Pershore,  Tewksbury, Woburn to name but a few. This naming convention continues until this day.
Name
Date
Description
Read more
Abbey Close
A church that is or once was part of a monastery or convent.
Abingdon Close
2016
Abingdon Abbey was a Benedictine monastery founded in the 7th century.
en.wikipedia.org/wiki/Abingdon_Abbey
Anglesey Way
2017
Anglesey Abbey is a 12th Century Priory to the east of Cambridge.
www.nationaltrust.org.uk
Back Lane
A back lane is a roadway often found in a planned medieval village running parallel to the main street.
Bath Road
2010
The city of Bath is a World Heritage Site, the romans built a bath to tap into the hot water rising from deep aquifers. The current Abbey church was built in the 15th century.
bathabbey.org
Beaulieu Ct
A 13th century abbey located in Hampshire.
wapedia.mobi/en/Beaulieu_Abbey
Beech Lane
Most likely named after the tree of the same name.
Bowberry Close
2007
Bowberry Row was the name of a row of houses that were close to the church on Eyebury Road.
Boxgrove Close
Boxgrove is a 11th century priory in the village of Boxgrove. Sussex.
wikipedia.org/wiki/Boxgrove_Priory
Byland Court
Byland Abbey is a ruined abbey in North Yorkshire.
english-heritage.org.uk/visit/places/byland-abbey
Cartmel Way
1966
The access road to the 'Laurel Farm estate'. The name comes from a priory in Cumbria that was founded in 1190.
wikipedia.org/wiki/Cartmel_Priory
Castle Acre
2020
Castle Acre Priory in Norfolk is one of the largest and best preserved monastic sites in England dating back to 1090.
english-heritage.org.uk/visit/places/castle-acre-castle-acre-priory/
Chancery Lane
Probably named after Chancery Lane in London which is the western boundary of the City of London.
wikipedia.org/wiki/Chancery_Lane
Cleve Place
Cleve Abbey was a Cistercian Abbey in the county of Somerset. The Abbey church was destroyed as part of the dissolution in the 16th century but the rest of the grounds still remain.
www.english-heritage.org.uk
Crowland Road
Pre 1800
Crowland is the town to the north of Eye.
crowlandabbey.org.uk
Delapre Court
Delapré Abbey or the Convent of St Mary. De La Pré was founded in 1145 in Northamptonshire.
delapreabbey.org
Easby Rise
2005
Named after an Abbey built around 1300 near the town of Richmond in North Yorkshire.
english-heritage.org.uk
Eyebury Road
Pre 1800
Originally Eyebury Road only went from Oxney to Eyebury Farm, the section from Eyebury farm to Eye Church was called Bowberry Road but changed sometime in the mid 20th Century so the entire road was called Eyebury Road.
Edgerley Drove
Edgerley Bar was a gated toll house close to where KFC and the entrance to Peterborough Garden Park is today. Turnpike roads (toll roads) were introduced in the seventeenth century to improve the condition of the roads. Because of the railways, revenues were declining so county councils took over the running of major roads in 1888.
Fountains Place
Fountains Abbey site has the largest abbey ruins in the country, a World Heritage Site and dates from 1132.
fountainsabbey.org.uk
Green Road
Probably named after Eye Green. A village green is a common open area which is a part of a settlement.
Glastonbury Close
1970
Once the grandest and richest Abbey in England.
glastonburyabbey.com
Guilsborough Road
Village in Northamptonshire. Home of a Roman Fort. The current church dates from the 13th century.
en.wikipedia.org/wiki/Guilsborough
Halesowen Place
An abbey founded by King John in the 13th century. Just the remains to the SW of Birmingham exist today.
english-heritage.org.uk
High Street
The primary business street of a village, town or city. It has also been known as 'Town Street'.
Hodney Road
The name comes from a row of houses that were called Hodney Row, where the entrance to Chancery Lane is today. It was also known as Hodney Hill Road at one point.
Ixworth Close
Ixworth was a 12th century Abbey in Suffolk.
britishlistedbuildings.co.uk
Leiston Court
A historic Abbey in Suffolk dating from 1363.
Leiston Abbey
Lindisfarne Road
Lindisfarne is a tidal island off the north-east coast of England. The monastery there was founded in AD 635.
en.wikipedia.org/wiki/Lindisfarne
Little Close
1949
Little Close was named after the Little family that used to farm this area.
Luffield Close
2016
Luffield Abbey was a 12th Century Benedictine priory. The remains were found in the grounds of what is now the Silverstone Racing Circuit. Two corners of the circuit are named after it: turn one is known as Abbey and turn seven as Luffield.
en.wikipedia.org/wiki/Luffield_Abbey
Lukes Lane
Originally called Holmes Road this followed the line of the premises of a Luke Griffin.
Malmesbury Drive
Malmesbury, Wiltshire is the oldest borough in England. Malmesbury was a monastery dating from around 676. The Abbey was completed in 1180 and in the 11th century it had the second largest library in Europe.
malmesburyabbey.info
Margam Close
Margam Abbey, founded in 1147, was a Cistercian monastery, located in the village of Margam, a suburb of modern Port Talbot in Wales.
margamabbey.co.uk
Merevale Drive
Merevale Abbey is a 12th century Abbey that fell into ruin after the dissolution. In the county of Warwickshire, Edward I and III are known to have stayed there.
en.wikipedia.org/wiki/Merevale
Millport Drive
2011
Millport is a town on the Isle of Great Cumbrae in Scotland. Located on the island is Britain's smallest Cathedral that dates from 1851.
www.millport.org
Monks Drive
A monk is a man who is a member of a monastic order.
wikipedia.org/wiki/Monk
Moore's Lane
The Moore family were farmers in the village and this lane is thought to be named after them.
Neath Court
Neath Abbey is only ruins now. It was founded in 1130 by Richard de Granville.
castlewales.com/neath_a.html
Newstead Close
Newstead Abbey is a Augustinian priory founded around 1170 by Henry II. It's located 12 miles north of Nottingham in Nottinghamshire.
newsteadabbey.org.uk
New Road
1924
New Road is an interesting tale. It was originally called New Road but then renamed Eyebury Street. At some point it then reverted back to its original name to stop any confusion with Eyebury Road.
Nipcut road
Nip and cut mean similar things, 'to take a short cut'.
Northam Close
1924
Named after an ancient medieval chapel in Eye.
Peterborough Road
The city to the west of Eye.
Pershore Way
Pershore Abbey in Worcestershire was founded in 689AD and is now a Anglican parish church.
visitpershore.co.uk
Roche Terrace
12th century monastry in Yorkshire
english-heritage.org.uk/visit/places/roche-abbey
Sandleford Drive
Sandleford Priory was founded around 1200AD and is in the county of Berkshire.
historicengland.org.uk/listing/the-list/list-entry/1000333
St Albans Drive
St Albans has a long history and the current cathedral replaced an earlier 8th century abbey in 1077AD.
stalbanscathedral.org
St Bees Drive
St Bee's was a 12th century Norman Priory on the north east coast of England.
stbees.org.uk
St Benets Gardens
An Abbey of the order of Saint Benedict is situated on the Broads in Norfolk.
norfarchtrust.org.uk/stbenets
St Michaels Walk
Named after St Michaels Mount in Cornwall which was a priory of the Norman abbey the 'Mont St. Michael' in Normandy.
stmichaelsmount.co.uk
St Olaves Drive
St Olaves was a priory in the village of the same in name in Norfolk.
en.wikipedia.org/wiki/St_Olaves
Tanholt Lane
The name derives from the Celtic "tann", oak and the Old English, "holt" meaning wood (Eye Life).
The Cloisters
A covered stone passage around the four sides of a courtyard (a square or rectangular space) especially in a religious building such as a church or monastery.
The Crescent
1956/7
The only road in eye that is named because of its shape.
The Reaches
This name denotes a narrow strip of road reaching out into the fens.
Thorney Road
Thorney is the village to the east of Eye.
en.wikipedia.org/wiki/Thorney_Abbey
Tintern Rise
1965
Tintern Abbey was one of the greatest monastic Abbeys in Wales, founded in 1131
castlewales.com/tintern.html
Turves Road
Peat used to be dug from the fens and used as fuel. These blocks of peat were called turves.
Verde Close
2009
Verde is latin for green.
Waltham Walk
Waltham Abbey was founded in 1030. This Augustinian abbey in the county of Essex was a popular overnight place for kings.
walthamabbeychurch.co.uk
Walsingham Way
1970
Walsingham is a village in Norfolk which once held a famous religious shrine.
Westminster Gardens
The first abbey in the Place of Westminster, London dates to AD 624. The current Abbey was built from 1245.
westminster-abbey.org
Whitby Avenue
2011
Whitby is a town in North Yorkshire and dates back to 657AD.
wiki/Whitby_Abbey
Whitepost Road
A post road is a road designated for the transportation of postal mail. Originally the road went from Dogsthorpe to Newborough. The Eye bypass and the A16 have since reduced its length.
Woolfellhill Road
A fell originally referred to an area of uncultivated high ground used as common grazing. The wool may relate to sheep that used to graze it.
Wroxton Court
Wroxton Abbey is a modernised, 17th century Jacobean manor house built on the foundations of a 12th century Augustinian priory.
wroxtonabbey.org