Eye Open Space Group has been running a campaign for dog owners to clean up after their dog. A poster competition was held at the groups fun day in July. Judged by Peterborough MP Stewart Jackson, the poster by Holly Jackson was judged the winning entry. Runners up were second place Lauran Mapleston and third place Jemilla Scotten.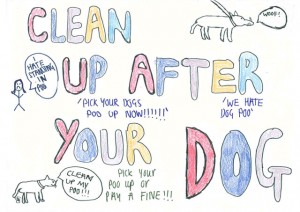 Winning entry by Holly Jackson
Dog mess is a constant issue that keeps coming up for the Parish Council. Dog faeces don't only look horrible but may contain worms which can cause serious eye disorders in children and adults. There are red bins around the village where collected waste can be put. Please clean up after your dog and help keep the village a clean and pleasant place to live.
Thank you to all those dog owners that already do.
You can read more here.