Parish Councils
Elected parish councils were first established in the Local Government Act 1894 to reinvigorate local communities and give them a voice. Previously meetings would have been held in the vestry of the local church.
For a variety of reasons, including  a general movement towards greater 'democracy' a Bill was promoted to create Parish Councils. After a difficult passage through parliament and many amendments, this Bill became an Act in 1894. Its effect was to transfer all non religious functions from the church to the elected Parish Councils.
Since then Parish councils have seen extra discretionary functions added but remain largely unchanged – they have escaped many of the changes imposed by Westminster on other layers of local government. Today there are some 9,500 parish councils in England. It is not unusual for seats on parish councils to be uncontested, and for members to be co-opted where the number of candidates is fewer than the number of seats available
Origins of the Parish Council
The origins of parish councils date back to the Tudor period (between 1485 and 1603). With the decline of the feudal institutions and the dissolution of the monasteries, England needed new organisations to carry out local functions, such as looking after the poor and keeping the local roads in good condition (until the dissolution Eye came under the remit of Peterborough Cathedral).
England was divided into individual parishes and all people had to regularly attend their local church. They were run by people who could read, write and keep accounts. The Church already collected income by levying tithes, (a tenth of the produce of land and stock, usually in-kind,) and a rate (property tax) to pay for the church buildings. The structure of these parishes meant they were seen as a suitable replacement.
So Parliament imposed duties on the parishes. It made them responsible for collecting voluntary monies to look after the poor in 1536; registering baptisms, marriages and burials in 1538 and for maintaining the highways within their boundaries in 1555. In 1601, after several acts about the poor, Parliament made each parish fully responsible for looking after the poor of their parish and allowed parishes to levy a rate to fund this. These duties would remain largely unchanged until the nineteenth century and the Local Government Act in 1894.
The origin of Eye Parish Council
The local papers had been reporting on the Local Government Act since since it had passed through Parliament in March 1894. In Eye a preliminary meeting was held in the New Room* on Wednesday 28 November 1894.
As reported at the time "A number of parochial voters, not far short of 200 met at the New Room on Wednesday, to hear some remarks and to have a discussion upon the Parish Councils Act. Mr. W. Moore, as convener of the meeting, occupied the chair. Major Leeds read a pamphlet drawn up by a member of the Northamptonshire County Council, explaining the Act. Numerous questions were asked at the close of the reading, showing that the audience was interested and enthusiastic in the matter. A vote of thanks to Messrs**. Moore and Leeds brought to a close a very pleasant meeting."
The time and date of the parish council set by central government: "On Tuesday December 4, not earlier than 6pm in every parish containing more than 300 inhabitants, the first parish council meeting will be held. Candidates must be nominated in writing, they must not be bankrupt or convicted of crime within five years and not hold any paid office under the authority of the council.
So Eye's Parish Council meeting was held on Tuesday 4 December 1894 for election of the first Parish Councillors. "There were present about 150 electors and Mr. J. Yates was appointed chairman. Twenty-two were nominated for nine seats, and the show of hands declared Messrs A. N. Leeds (highest number of votes), W. G. Moore, J. W. Moore (labourer), W. Parr, G. Steels(labourer), C. Copeland(labourer), J.Norman (labourer), E. Warwick and J. T. Steels to be selected, but a poll was demanded." So although well meaning in the show of hands it was deemed necessary to hold a proper poll.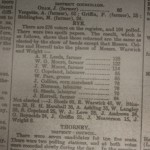 In late December 1894 the results of the poll were reported. " There are 276 voters on the register, and 164 polled. There were two spoilt papers. The result, which is as follows, shows those returned are the same as elected by the show of hands except that Messrs. Colins and Horrell take the place of Messrs. Warwick and Wright:-
A.N. Leeds, farmer, 125
W. G. Moore, farmer, 122
J. W. Moore, farmer, 114
C. Copeland, labourer, 85
W. Parr, grocer, 85
J. Collins, corn merchant, 78
J. Norman, labourer, 76
G. Steels, labourer, 70
J. Horrell, farmer, 64
Not elected: – J. Steels 60, E. Warwick 45, W. Stimson 38, H. H. Marshall 36, A. Ashling 35, W. Langley 28, S. Copeland 25, W.J Love 25, J. Andrews 24, G. Reynolds 24, J. Griffin 21, J. Neaverson 15, J. Wright 8."
The first meeting of the assembled parish council was held on Monday 7 January 1895.
Notes
* The New Room is what we now know as the Leeds Hall.
** 'Messrs' was used before the names of two or more people, usually in the title of a company.
Reference
Peterborough and Huntingdonshire Standard, 1894, 1895
Peterborough Advertiser
Related Pages